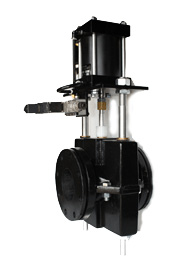 Pinch Valves

Pressure Sensors

Expansion Joints

Visit the Onyx Valve Website
A major pinch valve manufacturer in South Jersey was bought out by a multi-national corporation which subsequently closed the operation in 1994.  Six former employees of this company started Onyx Valve Co. on May 1, 1995.
Since then our customers have made us the fastest growing pinch valve company in the world.
We have since expanded to a 50 person workforce allowing us to help lead flow control industry with using both innovative and simplistic techniques to fit each of our customer's needs.
All Onyx Valve products are designed and manufactured in our modern factory located in Cinnaminson, NJ.
All our rubber pinch valve and check valve sleeves are made in-house to our exact specifications by the most experienced molders in the industry.
Onyx Valve Company does all our machining of our valve castings and parts in-house using the most technologically advanced machines. Every valve component is designed and manufactured to the most accurate machine-tool tolerances.
In addition to fabricating all our valves and pressure sensor ring components in-house, we also design and fabricate all the molds for our rubber components in-house as well.
We pride ourselves on our dedication to our customer's goals. Our people are Experienced Valve Engineers and they make things happen, and we can find a solution that works for almost any situation.