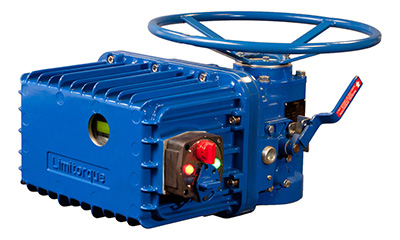 Accutronix Mx – Intellegent Actuator

L120 – Electro/Mechanical Actuator

LY – Quarter Turn

Digital Control Network

Visit the Limitorque Website
For more than 85 years, Limitorque actuators have been making flow control easier for a broad range of customer applications. These actuators are world-class devices used to consistently drive multi-turn and quarter-turn industrial valves and dampers, providing years of dependable service.
In the 1920's, an émigré inventor from England named Payne Dean was issued a U.S. patent for a machine which had the unique ability to sense, and subsequently limit, output torque in a controlled manner. He coined the name "Limitorque" to aptly describe the ability of the device to "limit the torque" produced by the machine, and the valve control industry was consequently changed.
Limitorque has evolved over almost 90 years since its strategic introduction of a "torque-limiting" design. Today, all heavy-duty electric actuators use some device that "limits the torque" in order to safely operate automated valves and protect people and property. True to its name, Limitorque offers solutions and automation choices for customers with world-class electric and electronic products and an expanded range of fluid power actuators and control systems that provide:
Automation advantages, including cylinder-operated fluid power actuators along with Limitorque's unparalleled range of heavy-duty electric actuators
Greater operating efficiencies that range from control room performance sequencing and continuous process optimization to configuration of ESD (emergency shutdown) situations and SIL-rated safety for both electric- and fluid-powered devices
A full suite of digital network protocols delivering visibility of databases and diagnostics compatible in either electric- or fluid-powered actuators
The Limitorque brand, which for scores of years has been the trademark customers trust when safe, reliable and robust performance was demanded from electric actuators, is now available in heavy-duty, scotch yoke pneumatic actuators.