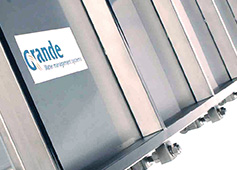 Visit the Grande Water Management System Website
Grande Water Management Systems Inc. (Grande Inc), founded in 2002 by President Nick Grande, specializes and provides engineered solutions in Combined Sewer Overflow (CSO) Abatement, Sanitary Sewer Overflow (SSO) Elimination, Storm Water and Waste Water Management. Grande Inc also provide equipment for agricultural and industrial applications. With over 25 years of experience in the field, their team seeks to ensure that all systems as well as services benefit the customers by providing efficient and reliable operation while controlling costs.
Grande Inc. is committed to offering innovative engineering solutions through the use of systems and ongoing support in order to meet your water management needs, to become the leader in the field of water management
Partnered exclusively with one of Europe's most established and experienced firms, Grande Inc provide a variety of specifically engineered patented systems to solve many of the problems encountered in this highly demanding field. Grande Inc strives to offer all-in-one solutions for all your water management needs.