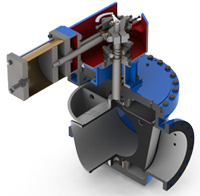 Cone Valves
Valve Repair Services

Visit the American Cone Valve Website
American Cone Valve originated in 1996. With personnel, whose expertise extended over 35 years in the valve industry, formerly employed by Allis Chalmers Valve Division (AC Valve), one of the foremost leaders in the cone valve industry.
Cone valves were originally manufactured beginning in the late 1920's. Some cone valves are still in operation today after 40 to 50 years of service, proving their superior ruggedness over other types of valves in similar applications. Many cone valve manufacturers are no longer in business, but their valves are still in operation. American Cone valves were introduced to replace those cone valves that had exceeded their lifespan and were not suitable for repair. The replacement cone valve business lead to the design and manufacture of valves required for new plants and projects in competition with current cone valve manufacturers.
American Cone Valves are manufactured exclusively by A/C Service and Repair (ACSR). ACSR has extensive experience repairing cone valves, worldwide, and consults for many cone valve users, engineers, and manufacturers. Working together, American Cone Valve and ACSR have the combined experience and manufacturing skills to produce the most dependable cone valve in the industry. The design combines the best features of previous cone valve suppliers and utilizes the most effective materials to manufacture and provide the highest quality cone valve on the market.
The company manufactures cone valves, sizes 6″- 36″, of standard working pressures up to 250 psi and greater. Cone valves are used primarily as pump check (shutoff) valves, but are also used in other applications requiring full port waterway openings and metal seats. Full port waterway openings provide lower head loss and reduced energy costs. Cone valves also serve as excellent throttling valves. The valves can be operated manually, with hydraulic cylinders and controls, or with electric actuators. The actuators are mounted to an operating mechanism, which is designed to lift, turn, and squeeze the metal seats for tight shut off. The lift/turn mechanism provides positive seating with minimal wear of the metal seats. This unique design enables the valve to function effectively for many years in service. The simplicity and efficiency of a cone valve, plus its many operating advantages, make this valve outstanding for a wide range of applications.
The design and quality workmanship of American Cone Valves makes them highly sought after and frequently specified by customers and engineers. Our reputation for extraordinary service has resulted in numerous repeat customers. We are often regarded as "One of the Best" in the business with respect to warranties and on time deliveries. We are very proud of our staff and the quality workmanship that goes into each valve. Our tradition to serve customers by providing reliable products with prompt and courteous service is the highest priority. We appreciate your business and look forward to serving you.