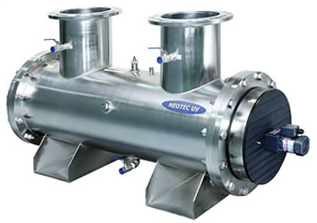 Ultra Violet Light Disinfenction Systems
Low pressure open channel systems
Medium pressure chamber and in-line systems

Visit the Neotec UV Website
NEOTEC UV LTD was founded in July 2003. As a leading manufacturer of the UV disinfection industry for waste water treatment, NEOTEC UV has experience of numerous applications in this field, and now they are stepping forward to the global market to compete with predominating UV manufacturers over the world.
New UV Technology
NEOTEC UV has innovative and reliable UV technology of global standards.
Variety of products
NEOTEC UV can provide a variety of products for all kinds of applications and capacity.