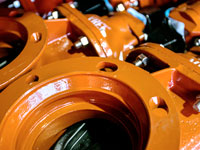 Gate Valves
AWWA Resiliant Wedge
Rotating Disc
Solid Wedge

Visit the American R/D Website
American R/D proudly produce the venerable double Rotating Disc gate valve from 3″ to 108″; and also market 2″ to 96″ solid wedge gate valves (AWWA C-500), 54″ and smaller resilient wedge gate valves (AWWA C-509 & C-515), 24″ and smaller plug valves (AWWA C-517), 36″ and smaller check valves (AWWA C-508), 108″ and smaller butterfly valves(AWWA C-504).
American R/D began producing valves in 1997 after American Cast Iron Pipe Company (ACIPCO) decided to exit the metal seated gate valve market (AWWA C-500).
American R/D only pursues treatment plant projects and pump stations leaving line work to our sister divisions within McWane (Kennedy Valve, M&H Valve or Clow Valve). The exception is where the specification requires either our double Rotating Disc or solid wedge gate valves.
All of the American R/D offerings are marketed through exclusive manufacturer's representatives across the U.S. and Puerto Rico. We market through Clow Canada and McWane International throughout the world.